Deb's Bed & Breakfast, LLC
3 Elmwood Drive
Mapleton, IA 51034
712-880-1448
celticwoman1953@gmail.com

A warm welcome and rose garden greet you at my front door nestled in a quiet cul-de-sac. More flower gardens adorn the back yard and can be enjoyed from an impressive multi-level deck with pergola... ask to see the "Marilyn" (Monroe) room.

3 bedrooms are available, all equipped with TV's and queen sized beds wearing silky Egyptian cotton sheet and colorful quilts. Private/shared bathrooms.

Full breakfasts are served... try my homemade muffins!

Call for Reservations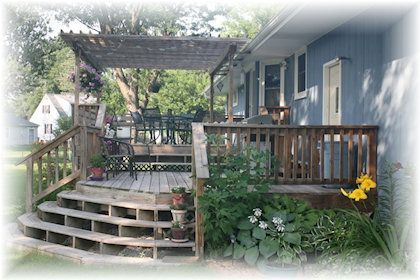 Area Camping Facilities
Mapleton Roadside ParkNorth View Acres
$15 nightly rate with electric hookup. Any questions contact Mapleton City Hall, 712-881-1351.
---
Peters Park (Rodney Pits) Recreation Area

This complex is actually three separate abandoned gravel pits that are being developed into a recreation and fishing area. Located two miles east of the town of Rodney, the combined 42 acres of water provide good fishing for bass, bluegill, crappie and catfish. Future facilities will include camping pads, complete with electricity, vault toilets, an open shelter house and drinking water. Camping is available for a fee.
---
Lewis and Clark
State Park This 176-acre park is situated on a 259-acre "Blue Lake". The park offers hiking trails, swim beach, enclosed lodge and historical display of the keelboat and other equipment used by the Lewis and Clark party. There are 81 electrical camping sites for visitors. The auto trail through the park and adjoining wildlife management area is a popular evening activity to view the abundant wildlife.
---
Oldham Recreation Area

This 13-acre park is located on a
12-acre lake, 1 1/2 miles northwest of the town of Soldier. A boat ramp and a swimming beach with a diving raft make this park very popular, along with some of the best fishing in the County! Electricity is available to picnickers and campers. Camping is available for a fee.
---
Savery Pond

Located approximately 4 miles southeast of the town of Moorhead, this 25-acre park includes a 15-acre pond with 10 acres of land. Good populations of white crappie, bass, bluegill, carp and catfish are available to area anglers. A boat ramp is available, and other improvements are planned for the future. Camping fees are charged.
---
Onawa Materials Yard

Situated on old Oxbow lake (5 1/4 miles west of the town of Onawa), this site was once used by the Corps as a material storage area for work done along the Missouri River. The 3-acre site is now used for primitive camping and for waterfowl viewing during the spring and fall migration.
Camping is available for a fee.