The History of Mapleton, Iowa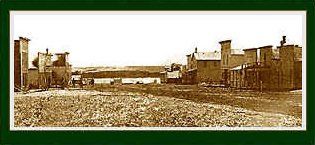 In October 1877, when the Northwestern Railroad was established on the east side of the Maple River, the town of East Mapleton was plotted. "Old Mapleton" had been established in 1857, on the west side of the Maple River. Many of its residents and businesses moved east across the river and relocated next to the railroad. On May 10, 1878, an election was held approving the incorporation of East Mapleton. The population was 188. On March 2, 1896, by a vote of 114 for and 5 against, the town's name was changed to Mapleton. In 1978, Mapleton celebrated its centennial. Today the residents of Mapleton are proud of its strong business district, outstanding medical care, active churches, good schools, several popular sources of entertainment, and attractive residential area. (Photo of Mapleton Main Street - May 11, 1878)
Firsts for Mapleton
Will H. Wilsey, 1855, (Aug. 1), first settler.
Wm. McCleerey, 1856, first wheat crop sown (crop proved a failure because of dry season.)
Adelbert Warren, 1856, first death in Mapleton. Burial in Wilsey Cemetery.
Wilsey Cemetery, first burial ground in Mapleton. About 1856.
Bushrad Warren, 1857, first postmaster in Mapleton.
George Massett, 1857, first store, St. George.
Benj. Davis, 1858, first carpenter.
Miss Martha Foote, 1858, first teacher in a small cabin.
James A. Scott, 1859, first brick yard
Henry Heisler and Elizabeth Maynard, January 7, 1861, first marriage in Mapleton.
Calvin Metcalf, 1865, first miller.
Charlie Lee, first teacher in Priester School built in Mapleton, 1865.
A. J. Patrick, first Baptist preacher, 1865.
Ira Price, 1866, pioneer store.
William Shaver, Methodist Minister, came to Mapleton, 1868.
J.E Baxter, 1868, pioneer blacksmith.
Heisler Cemetery, 1879, first burial, Wm. H. Heisler.
R. L. Ingils, 1873, first store in old town, Mapleton
First schoolhouse, now Steinman's old house on the Eliza Lamb farm. 1873, the old Mapleton School
Charlie Penn, 1874, first blacksmith in old town, Mapleton.
First train into East Mapleton, November 12, 1877
Baxter Whiting & C. I. Whiting, 1877, first hardware business, East Mapleton.
James Garrison, first grocery store in Mapleton after the railroad came through, 1877.
C. and N. W. R. R., 1877, first railroad in East Mapleton.
Bessie McKown, spring of 1878, first child born, East Mapleton.
First Sunday School after New Mapleton, 1878. Mrs. Stoll was founder.
J. F. Scott, 1878, first mayor, East Mapleton.
Mapleton Bank, 1878, first bank, East Mapleton.
I. F. Baker, first photographer in Mapleton.
Millo Bullock, first dry goods store in Mapleton.
Farmer's Home, run by Brancis O'Neil, first hotel, East Mapleton.
Hamilton (Wallace and Porter) first hardware store.
John A. Heisler, first team of horses in the valley.
Henry McWilliams, first drug store in Mapleton.
Jack Palmer, first drayman in Mapleton.
Edgar Williams, first piano.
C. I. Whiting, first park commissioner, East Mapleton.
Available for purchase:
"Mapleton Iowa The First 125 Years" Click here for a printable order form.
Mapleton Tornado
On April 9, 2011 around 7:30 p.m. Mapleton was hit by an EF3 tornado that ripped through the southwest side of Mapleton. About 50-60% of the town was damaged or destroyed (homes and businesses) by the tornado which appeared to be 3/4 of a mile wide. No serious injuries were reported. A high school play was going on at the time of the tornado as people took shelter when the storm hit. The residents of Mapleton were resilient after the tornado everyone pitched to clean up. A number of homes and businesses were rebuilt and repaired.